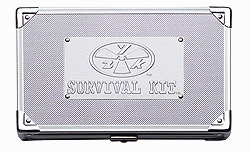 The Y2K is the Revelation of the Information Age. Yes, that's Revelation in the Biblical Revelation, the one where the world ends. No kidding, if you go to some websites, that's exactly what a lot of so-called "experts" are predicting. They say you shouldn't be anywhere near hospitals, airplanes, televisions, your home computers, stereos or palmtops because they're going to come alive and eat you and your family.
So, the natural extension of this is the proliferation of people trying to make money off of it. Check out the linked pictures above for some high-quality products. Some of them are intentionally humorous, some not. Intentionally humorous, that is.
Specifically, one company, Y2K Survival Supply Co., is marketing a whole bunch of products that will get people through the hellish firestorm that is Y2K. For instance:
FOOD STORAGE: 1-4 person 3 mo.-1 year
WATER STORAGE AND FILTRATION
SOLAR PRODUCTS
GENERATORS, PORTABLE
And, they definitely don't want to cause a panic, or take advantage of gullible people. Of course not. Just look at this:
FOOD and WATER SHORTAGES Potential POWER OUTAGES,
and civil disorder are just a few of the possible
ramifications of Y2K!!
It is imperative that Americans start preparing as soon as
possible in the short time remaining.
CALL US -WE CAN HELP!!!
This comes as no surprise to anyone who knows anything about history. Y2K is the scientifically-sanctioned Doomsday, just as grays and alien abductions are the scientifically-sanctioned (barely) demons of the 20th Century. Same crap, different millenium.